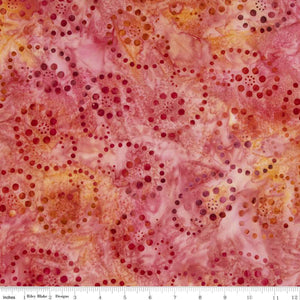 ESSENTIALS BATIK BTPT1158 TJAP Mango Tango Riley Blake
BATIK - Dotted swirls in a berry red on a mottled background in shades of red, coral, pink, orange, and yellow.
Expressions Batiks TJAPS.  Tjap, pronounced "chop," is a batik fabric stamp created with thin strips of copper that are manipulated by hand into florals, geometrics, or other motifs. These beautiful motifs are then welded onto a metal base. The motifs are typically denser and medium or large in design. Color combinations vary for more depth and movement. Riley Blake Designs batiks are ethically sourced and made with the highest quality fabric. Each hand-dyed print is designed and developed by cultivating relationships with true batik artisans in Indonesia. Due to the hand-crafted nature of batiks, fabric may vary from image. 
100% cotton batik  42-43" wide

---
We Also Recommend