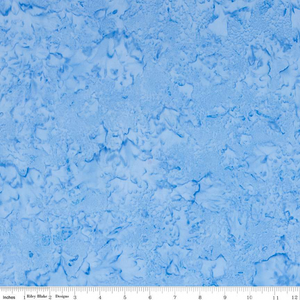 EXPRESSIONS BATIK BTHH174 Lt Blue 1 Hand Dyes Riley Blake
BATIK - Expressions Batiks "Hand-Dyes" is the art of hand-dying fabric in a time-honored craft that adds color and depth to fabric without applying any specific motif or repeating pattern. Applied by hand, the dye is completely entrenched into the fibers for a rich and dazzling saturation of color. The painterly nature of a hand-dye is achieved by scrunching or folding the fabric before applying the dye.
Riley Blake batiks are ethically sourced and made with the highest quality fabric. Each hand-dyed print is designed and developed by cultivating relationships with true batik artisans in Indonesia. Due to the hand-crafted nature of batiks, fabric may vary from image.

100% cotton batik  42-43 inches wide

---
We Also Recommend