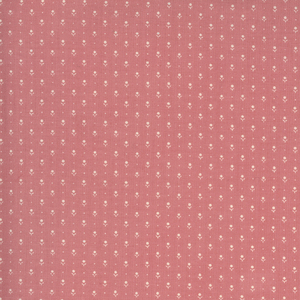 LADIES LEGACY 8359 19 Pink Flower Barbara Brackman Moda
Ladies' Legacy celebrates an alliance in New York City in the 1860's.  Period prints are drawn from a quilt stitched for a Union soldier's hospital bed but never delivered.  Each calico recalls a volunteer who spent the war years in the Women's Central Relief Offices, keeping accounts of donations, shipping crates and barrels to hospitals, quilting in the attic and firing up the patriotic public to donate 34,000 quilts and blankets sent out from their Greenwich Village office.

The inspiration quilt, narrow to fit a patient's bed, is signed "School of Design, Engraving Class, Cooper Union" indication it was made by women learning to be magazine illustrators in the art school, still thriving today.  Engraving teacher Miss Field encouraged the ladies to spend each afternoon stitching bed quilts to send to the soldiers' relief agency at the school.  One of only about 20 survivors of the thousands of quilts made to comfort soldiers, the sampler's fabrics provide traditional design for Moda's reproduction scrap bags.
Tiny creme flowers in a directional calico pattern on a 1860's pink background.  Flowers are about 1/8 inch tall.  100% cotton  43-44 inches wide
---
We Also Recommend